CHANGE YOUR LIFE AND INSPIRE OTHERS AROUND YOU WITH FITNESS KICKBOXING
THE CKO KICKBOXING
CONCEPT
CKO Kickboxing franchises are built on the idea that everyone should love going to work in the morning. Our franchisees are engaged and motivated from the second they step foot in the gym. This is the ideal attitude for other individuals that are ready to change their lives and positively affect those around them.
CKO Kickboxing uses the training elements from boxing to develop a total body workout that produces real results. All our classes are centered around group fitness to help members stay engaged so they are excited to come back. All workouts are completely customizable, which allows everyone to work at their own pace, no matter their age, gender or fitness level. During the kickboxing classes, trainers never focus on the fighting aspect of the sport or use advanced techniques, so all members always feel comfortable participating. This concept creates a welcoming environment that motivates people to come back every day for a fun, high-impact workout.
NEW
OPPORTUNITIES
Nearly 80% of franchise owners were members before joining the team, which speaks to the passion that the community has. There is a natural progression for this to occur because CKO members are dedicated to their own success. Franchise owners understand that it's not only their own lives that are changing, but the lives of each member as well. This unique position is inspiring, but also requires someone who is highly motivated and driven.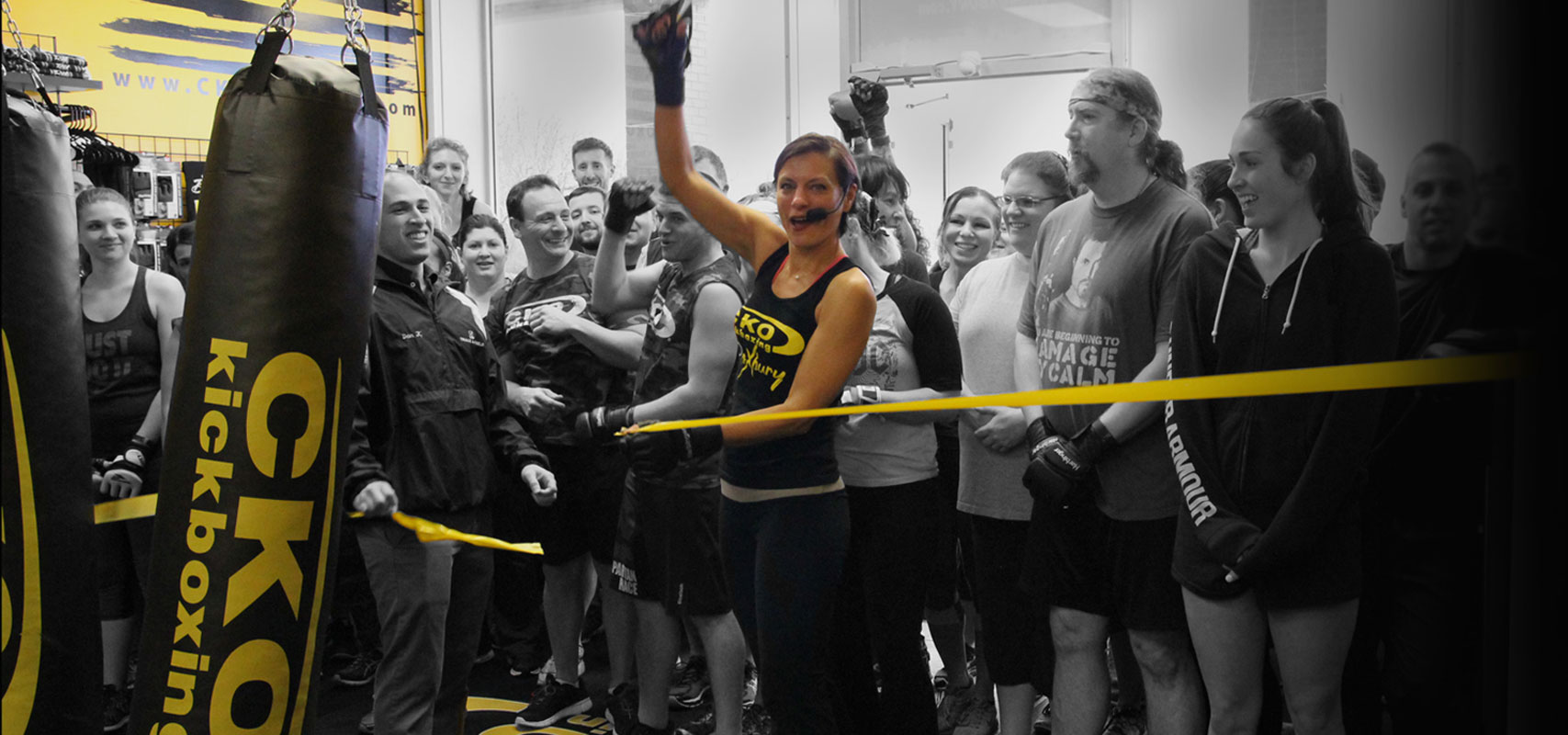 Becoming a CKO Kickboxing Franchisee has been one of my greatest and happiest accomplishments. CKO has changed my life and it is the very reason I chose to become an owner. Fitness has always been an especially important aspect of my life. Having never been a business owner (my background was in Education), I worried I was not experienced enough to own and run a business. Thankfully, Joe, Rich, and the entire team at headquarters has always helped me through every situation I have had to navigate.
They have all always been there to talk to for guidance and have become a second family to me. I can call any one of them, and they inspire and guide me through any difficult situation I experience. I truly feel like family and not just a business/franchise with them. This has been one of my greatest and happiest accomplishments. CKO changed my life as a member and it is the very reason, I chose to become an owner.
Fran Benintende – CKO Emerson, NJ
OUR COMMITMENT TO OUR FRANCHISE OWNERS
As a franchisee of CKO Kickboxing, you'll be part of a growing network of dedicated fit-conscience people across the country. Our national team is just as dedicated to you and the success of your new business. We offer the following assistance to help your reach your goals:
Protected Territory: Once your location is mutually agreed upon, your location shall be surrounded by protected territory.
Comprehensive Franchise Training: You will receive training at our corporate location in Hoboken, NJ to help build on your existing abilities. We also assist in the development of quality fitness and business skills.
Regional Trainer Visits: We will come to your location before opening to help train you in additional key elements so that you can have a hands-on approach in your soon to open location.
Gym Opening: We will assist you with weekly calls prior to and after your grand opening.
Vendor Relationships: You can take advantage of our pre-negotiated, company-wide, vendor-approved suppliers' list that will help to lower costs.
Ongoing Support: Continuing guidance shall be provided in the form of correspondence and periodic telephone and written communication.
What are you waiting for? If you're ready to get out from behind a desk, improve your physical fitness and change the lives of others, it's time to join the CKO community. To learn more about our kickboxing franchise, contact us to set up your introductory call.
You have the drive inside you, let us ignite it.
1. Notice Regarding Franchise Offers and Sales
a. This information is not intended as an offer to sell, or the solicitation of an offer to buy, a franchise. It is for information purposes only. There are approximately 14 countries and 15 US states that regulate the offer and sale of franchises. The countries are Australia, Brazil, Canada (provinces of Alberta and Ontario), China, France, Indonesia, Italy, Japan, Malaysia, Mexico, Russia, South Africa, South Korea, Spain, and the United States of America. The US states are California, Hawaii, Illinois, Indiana, Maryland, Michigan, Minnesota, New York, North Dakota, Oregon, Rhode Island, South Dakota, Virginia, Washington, and Wisconsin. If you are a resident of one of these states or countries, are receiving this message in one of these states or countries, or intend to operate a franchise in any of these states or countries, we will not offer you a franchise unless and until we have complied with any applicable pre-sale registration and/or disclosure requirements in the applicable jurisdiction.
b. This offering is not an offering of a franchise. In New York (USA), an offering of a franchise can only be made by a prospectus that has been previously filed and registered with the Department of Law of the State of New York. The application for registration of an offering prospectus or the acceptance and filing thereof by the Department of Law as required by the New York law does not constitute approval of the offering or the sale of such franchise by the Department of Law or the attorney general of New York. c. OUR WEBSITE HAS NOT BEEN REVIEWED OR APPROVED BY THE CALIFORNIA DEPARTMENT OF CORPORATIONS. ANY COMPLAINTS CONCERNING THE CONTENT OF THIS WEBSITE MAY BE DIRECTED TO THE CALIFORNIA DEPARTMENT OF CORPORATIONS AT www.corp.ca.gov. A SPECIAL FORM HAS TO BE FILED IN CALIFORNIA IN ORDER TO MAINTAIN THIS EXEMPTION.