Put 'Em Up! A Guide to Gloves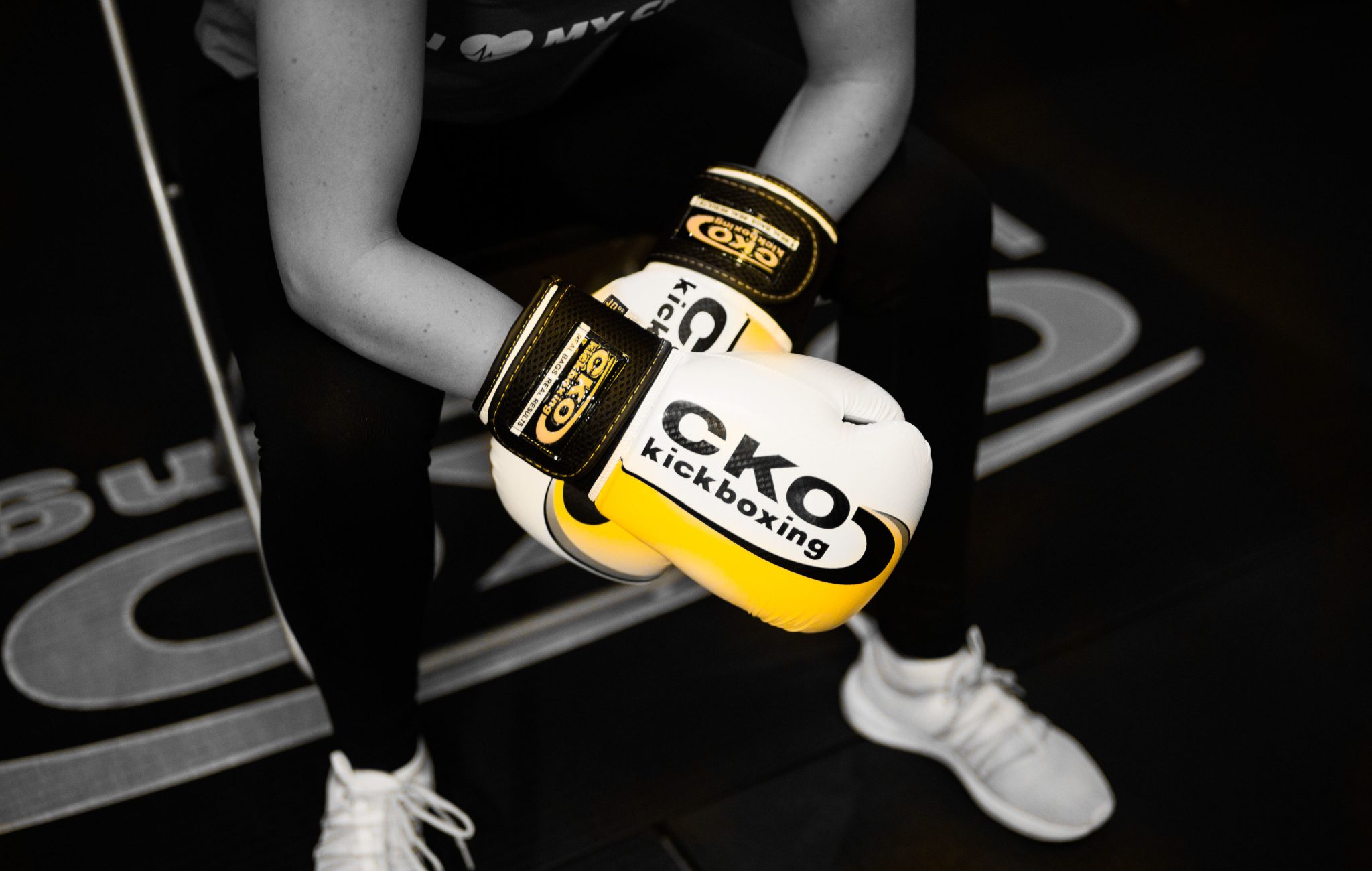 If you've ever struck a bag bare-handed you know one thing is for certain. It hurts. A lot, actually.
Your ancestors, dating back to 1500 BC, would be shaking their heads in dismay. It was that long ago that boxing emerged and even then they knew the importance of protecting their hands, hence the simple strips of leather they wrapped around them.
From leather, hand protection developed over the course of history as the sport of boxing grew in popularity. At one point, if you can believe it, pieces of metal were added to inflict more damage. That barbaric inclusion didn't seem to help drive the sport forward as boxing was banned for quite some time.
The sport experienced a resurgence in the 1600's, and just before the turn of the 20th century, modern boxing gloves hit the market, which today appeals to both contact and non-contact boxers. There are a slew of gloves to choose from: various brands, sizes and structures for various uses.
And so, even though the barbaric ages are over and at CKO Kickboxing, no one is striking at you, you still have that beast of a bag you need to protect yourself from. That's where gloves come into play.
No matter how long you've been giving that bag a beating, at some point you may wonder what gloves are the best for you and if you are at a point where you need to upgrade. The good thing going for you is that you have a slew of glove choices at your fingertips.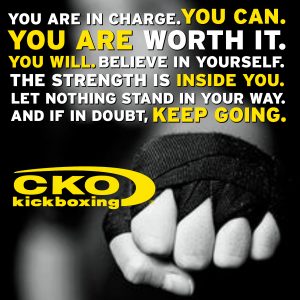 CKO STARTER GLOVES
When you're new to cardio kickboxing, that means your knuckles are as well. Just like breaking in a new pair of shoes, your knuckles need to break in too, and protecting them with your chosen gloves are the key to doing just that.
That's why you often start with starter gloves, a smaller version of traditional boxing gloves that provide quality protection. If you activated the CKO Triple Play, these are the gloves that you were granted. Those big cushiony black gloves emblazoned with those three telling yellow letters can be found at every CKO Kickboxing gym.
As you get your feel for the CKO workout and your hands get used to the impact, these gloves are a great choice. The large area of cushion will keep you protected and comfortable and you'll find the gloves easy to get on and off.
As you climb the cardio kickboxing ladder and are no longer a novice, you may want to advance yourself in the glove department. The bulkiness of starter gloves serves its purpose but you may be seeking a little more structure for your hands. It's like advancing from a squat hold to a squat jump; you're prepared and ready to take your game to the next level.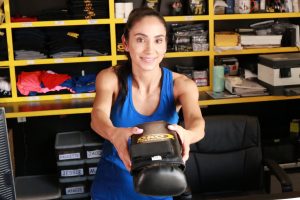 CKO FINGERLESS GLOVES
A great option is CKO Fingerless Gloves. They're a little less bulky, a little lighter and have a little more structure.
Otherwise known as MMA style gloves, these babies give you something nothing else does: finger mobility. Your fingers are free to extend throughout your workout, leaving you able to make a tighter fist, which can increase the control you feel as you use your hands throughout your workout.
This can be helpful for greater mobility in regards to floor work such as when you're dropping down for push-ups or mountain climbers. Having your ten digits free also assists you in holding the bag when you're throwing knees or when you're counting down the seconds on that bag hold.
They also give you greater wrist stabilization which lends itself to better form. Even though they don't have the overall bulk that starter gloves do, they have ample padding designed to specifically protect your knuckles, exactly where you need the most protection.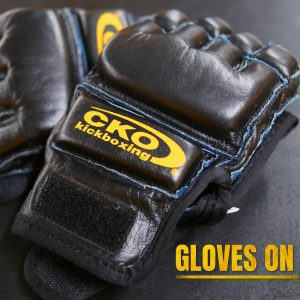 CKO BOXING GLOVES
Rounding out the glove options are the CKO Boxing Gloves. These are traditional boxing gloves that are very well padded and provide excellent protection. You may tend to gravitate toward them if you have a cardio kickboxing goal in mind.
CKO Boxing Gloves come in varying weights (10, 12, 14 and 16oz) and all for good reason. If you're looking to improve your motion and technique and speed up your strikes, grab a pair of lighter weight gloves.
If greater endurance, power or strength is more of what you're after, then make a beeline for the heavier ones. They are fantastic for training and you'll find that you can then strike at a greater speed when switching back to the lighter ones. Overall, CKO Boxing Gloves help you elevate your workout so you can keep reaching your goals and create new ones.
Now that you have the glove decision all wrapped up…Wait. Wraps.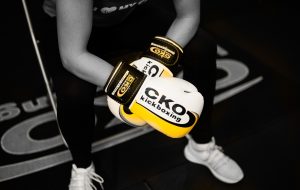 HAND WRAPS
If you're looking to get the most out of your workout, you're gonna hit that bag with all your might and that can take quite a toll on those hands of yours. Enter: Wraps.
Wraps provide an extra layer of protection for your skin and the little bones in your hand while delivering extra stability for your wrist. Your knuckles will love you for keeping those knicks and scrapes at bay.
You may not even realize how many people wear wraps because they are hidden underneath your fellow CKO members' gloves. For some cardio kickboxers, wraps are a must, depending on the type of gloves they choose. CKO Boxing Gloves, for example, actually require wraps for optimal use and performance.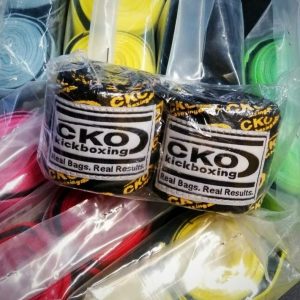 The gloves you choose are a personal choice. Having three options will give you the opportunity to find a glove to love. Recognizing where you're at in your CKO Cardio Kickboxing journey will help you determine which gloves are the best fit.
***
Kimberly Oley is a self-employed content writer and strategist who began as Contributing CKO Author in 2018.